IWD 2023 – Celebrating the Women of Workwell
8 March 2023
It's International Women's Day – here, Workwell people talk about the significance of the day in their own words…
Greetje Brosens, Chief sales & revenue officer
Why is IWD important to you?
International Women's Day is hugely important to highlight the achievements of women in the workplace and to raise awareness of challenges that still exist, engage people around the challenges and continue to remove barriers. It allows us all to consider, celebrate and take stock of where we are, and continue to remove obstacles. I have seen huge improvements for women in the workplace in the last 30 years but that doesn't mean that the work is done.
What do you enjoy about your career/role?
Everything! Having a career is hugely important to me as it gives me financial independence, which I value. I love being part of a growing company with huge ambitions and contributing to the success of the business. I also love passing on my knowledge to the next generation and see other people thrive in their career.
What do you do to bring balance to your life?
My kids give me balance. The minute I am with them I am totally focused on their needs and can switch off from work. They are old enough now to have their own personalities and be interesting human beings to be around.
How do you show your appreciation for Women?
I hope that, by raising two decent male human beings who have a working mum, I make things easier for the women that they will work with, study with, have relationships with. I also love watch women in the workplace develop, I am always happy to mentor young women and help them grow. I get a lot of reverse mentoring benefits from these relationships, where they help me understand what is important to young people in the workplace.
Kate Bates, Chief People & Culture Officer
Why is IWD important to you?
I feel conflicted about IWD as for me we are all responsible, every day, to actively take steps to challenge structures and cultures that are not inclusive. Although IWD provides a platform once a year to discuss this topic more broadly I strongly believe we should be discussing the topic of being inclusive daily. As a woman, with two young girls, I have personally had my own challenges with flexible working, mum guilt, and being present when there is a lot going on but I also recognise that I am not alone in these struggles and my husband has also experienced challenges. I know I can positively impact work environments to be as inclusive as possible and that I can personally take active steps to change policies and approaches to ensure everyone has a voice.
What do you enjoy about your career/role?
I have always been independent and having a career I love provides me with purpose. I have found that purpose ensures I have a positive mindset and impacts my overall wellbeing. Commencing an MBA when I had two children under 3 was intense but made possible due to the network of family and friends around me. We should never have limiting beliefs and should support each other to achieve more. Throughout my studies and career, I have been fortunate to be surrounded by people that are willing to share their experiences and this has helped me to develop my understanding of others' inclusion needs and their personal journeys.
What do you do to bring balance to your life?
We keep one day a weekend free for family time, we typically end up doing something but it is a day we keep free to see where it takes us. I love to exercise and socialise with friends. I have friendships with ex-work colleagues that span over 15 years and although our lives have changed considerably then through communication, spending time and caring for each other that bond remains. Balance for everyone is different but for me it is just about recharging however that may be.
How do you show your appreciation for women?
Kindness is key. We should all be supportive, kind and there for each other. We have all had experiences that have shaped who we are today. Sometimes we share these experiences and other times they are present in our character. Life isn't always easy but by being supportive and kind you can make a difference to someone's day, week, month. It is essential to me that I take moments to say thanks for being there.
Michelle Reilly, CEO, 6CATS International & MD Workwell International
Why is IWD important to you?
Giving people recognition is important all year round but I feel it is important to celebrate IWD at 6CATS because previously the sector we work in was very male-dominated. 6CATS has changed that and it is important for us to celebrate the success of the women within our company and those who support us.
What do you enjoy about your career/role?
I love the fact that I get to create opportunities for people whether it's the staff at 6CATS and our wider group or our clients, suppliers and affiliates. We have grown a lot of people through the business at 6CATS. Our operations director started working for 6CATS at 16 and 11 years later she is on the board. Our sales director first joined us when she was 17 and then returned to 6CATS 5 years ago and quickly progressed within the business. We have lots of these stories and that is what makes my role enjoyable. In a service business, people are everything.
What do you do to bring balance to your life?
It's tough, running a service business in a busy sector is demanding. It's also exciting working in an international market where no two days are ever the same. It's hard to switch off. The main things that bring balance to my life are spending precious time with my family and close friends and, of course, regular holidays and seeing the world.
How do you show your appreciation for women?
I try to show appreciation for all the great people in my life. Having worked from a young age in a male-dominated industry, I have championed women in our sector, providing support and opportunities for them to achieve their goals. Outside of work, I adopt the same principles and always try to be supportive and encouraging to the women I am lucky enough to have around me.
Sarah Shaw, Finance Director, Workwell Outsourcing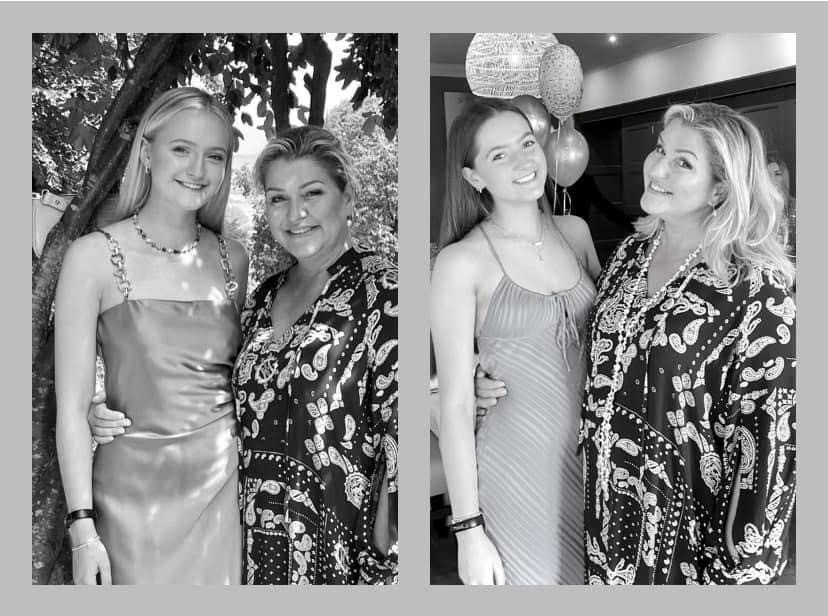 As a mother to 2 daughters, it has been important for me to set a good example, I do not want them to feel their gender impacts their choices in life.
I am solution and people focused, I enjoy working with the leadership team, the wider team and our customers to solve problems. I am passionate about what I do and making a difference. Now we are part of a bigger group coming together, I am fascinated, excited and enjoying seeing and being part of that process.
(Balance) is something I constantly need to work on in all honesty. It may surprise some but I am a natural introvert and need to spend time alone to recharge. I love to spend time by the coast, in this country or abroad, anywhere I can see a lot of clear sky! The vastness of the sea and sky help to give me perspective.
I show appreciation for women by being there for them, listening and sharing my perspective when they need support in any way. Women do often need to talk things through which I think is healthy and positive. Equality to me does not mean we need to be the same, it means we need to respect our differences and value them equally.
Pauline Brown, Credit controller
Why is IWD important to you?
IWD is important to me as I grew up in an era where women weren't recognised. Their role was to get married, have children, cook and clean and look after their husband's every need, the husband was the breadwinner. Thankfully, over the years things changed, by the time I was an adult things were moving in the right direction and since leaving school I have always worked. I suppose we have Clara Zetkin to thank, a German communist and women's rights activist in 1910 who proposed the idea and in 1911 the first IWD was celebrated in Switzerland, Austria, Denmark and Germany, took some time but I do think women have been underestimated for too long, it is great to see women holding their own at last.
What do you enjoy about your career/role?
I really enjoy working for Workwell, who wouldn't, it is a forward-thinking company that recognises talent. I find my role has challenges, however, that is a good thing and as I keep saying 'every day is a school day'. The environment I work in is super, the office is fabulous, great walks by the river and I attend a pilates class Wednesday lunchtime in the mill. The people are friendly and helpful. I love the way we celebrate events like this, we had International Peanut Butter Day this week, awesome!!!!! More importantly, I like the fact that clearly everyone works hard, there is no room for shirking.
What do you do to bring balance to your life?
I love life and live it to the full, work hard, play hard. There is not enough hours in the day, I am a very energetic individual with a hectic social calendar. I am family-orientated and spend a lot of time with family members. I love holidays and prefer skiing to a summer holiday, luckily enough I have a son who lives in Switzerland and he is very generous!
How do you show your appreciation for women?
I show my appreciation to women in many ways, I certainly treat them as equals. I am an avid supporter of any kind of sport, and love that women are doing so well.
As I have daughters and granddaughters and many girlfriends, over the years they, like most people have had ups and downs, as I am a very positive person, who has had a fair share of downs and ups, when they are down, they tend to come to me for reassurance, I give them a pep talk, straighten their crown and send them away happy and confident in their own skin.
Lisa Simpson, senior training & development co-ordinator
Why is IWD important to you?
When I was growing up the only time I saw women being celebrated was on mother's day, which subconsciously embeds the idea that being a mother is the only thing a woman should aspire to be. It's important that women continue to be recognised and celebrated for who they are and what they have achieved in their lives as individuals; being encouraged to live their lives how they want, rather than how society expects them to.
What do you enjoy about your career/role?
I enjoy being able to provide support to my team, helping them to develop and grow both as people and professionals. It's a very rewarding environment to be in.
What do you do to bring balance to your life?
I travel whenever I can, and love to learn new things about life and the world in general.
How do you show your appreciation for women?
I don't think I do anything consciously to show my appreciation, as I appreciate all the powerful women in my life. I'm always sure to let them know about how amazing they are and how much I admire them. It's nice to be complimented on who you are, I think.
Christina Poole, Group Talent Acquisition Lead
Why is IWD important to you?
IWD is important to recognise how women have been a huge catalyst for change over the centuries. The battles and progression we have made are only the tips of the iceberg, it is now about eliminating further stereotypes and taboo subjects that are not discussed.
What do you enjoy about your career/role?
I get an opportunity to speak to all walks of society, to discuss their ambitions and career goals. I get an opportunity to speak to potential stars that will join our company and make a huge change for themselves and the business. I get to change lives and support new hires when they join the Workwell teams across the UK.
What do you do to bring balance to your life?
I like to meditate, reflect and develop my mindset to try and focus on being a better person. No one is perfect, but I try to be a positive member within the company I work for and to people in society.
How do you show your appreciation for women?
By being a support mechanism. To listen and guide when I can, or to let them guide me. This world is not easy, so I show my appreciation through mutual respect and positive encouragement.
Eve Przytula, HR & Business Support Assistant
Ever since I remember, me, my mum and my 2 sisters were treated by my dad who used to make us feel special and appreciated that little bit more on the IWD. He would be grateful for all those little things my mum would do 'behind the scenes' so he can 'conquer the world'.
As a parent myself, I teach my son to be kind and respect every girl he meets. Not only on the 8th March but every day. For the last 3-4 years, on the 8th March, me and my son would think about a woman that inspires us and I am happy to announce that he still puts me ahead of Taylor Swift or Jenna Ortega!
Abbi Keenan-Smith, Account Manager
A woman that inspires me is my wife, she is hard-working, strong and determined to be the best wife to me and mum to our daughter. She powers through any obstacles in life, putting others first and always with a smile on her face.
Becky Walsh, Operations Director
International Women's day is important to me because it's a day to celebrate women's empowerment and equality. Allowing all women to remember why they should work hard towards their goals and keep inspiring other women to work hard too. The world needs strong women!
My mum inspires me every day, she is very resilient, understanding and supportive. She has made me the hard-working mother I am today.
Joseph Stokes, Customer Service Advisor
Why is IWD important to you?
It's very important to me that we recognise and have a day to appreciate women. as well as remind people of the struggles that women have been put through throughout history.
What do you enjoy about your career/role?
I love the opportunities and the room for growth that my career provides. as well as the support and kindness of the company, my office and the management team. I enjoy that each day can be different from the last so it isn't very repetitive.
What do you do to bring balance to your life?
Mediation, Eat Healthy and working out every day. Spending time with my family.
How do you show your appreciation for women?
The main way I show appreciation is supporting and treating my Fiancée like a queen. I'll do everything for her from cooking and cleaning or running a bubble bath for her after work. In my daily life, I try to be appreciative by being respectful. This comes in little ways, like holding doors, or giving up my seat, I was raised by my mother and have 3 sisters so I show a lot of appreciation to them just by being supportive and helping where I can.
Natasha Frampton, client services associate
Why is IWD important to you?
IWD is important to me because we fought and continue to fight for ourselves and others for equality and basic human rights for our gender. We are powerful and strong and sometimes we need to be reminded of that!
What do you enjoy about your career/role?
My role has always been more enjoyable to me, to be honest, because we are mainly female in our office and we understand each other and can have a laugh. With payroll you definitely need to multitask and lets be honest, we do that best!
What do you do to bring balance to your life?
Luckily being able to work just two days a week, I get to have adult time at work and put my work head on and then the other days put my mum head back on, this works well for me as I have the opportunity to do both without feeling guilty, it's a nice balance.
How do you show your appreciation for Women?
I show my appreciation for women by telling my daughter 'Don't ever let anyone tell you that you can't do something because you're a girl!'
Sam Jennings, senior operations manager
Why is IWD important to you?
I think it is an important day for everyone, to recognise and remember the struggle women have had to be treated more equally and taken seriously in many areas of the working industry and beyond. Times have changed and equalities are being evened out, and hopefully, these will continue to happen across many areas, as for some women it can still feel like a struggle to get yourself heard or get the same treatment as a man doing the same role.
What do you enjoy about your career/role?
I enjoy being able to problem-solve and implement processes or solutions that offer greater efficiencies to people's work and alleviate clients' frustrations. I also enjoy getting to know the people I work with and understand what motivates them and what difficulties they face, to help them get the most out of their job role and any progression they would like.
What do you do to bring balance to your life?
It is important to take a step back at times to reflect and re-evaluate things, as I find this helps to put things into perspective and allows you to prioritise the important tasks over ones that can wait until later. I set myself a list of things that I want to get accomplished that day or week so that when I log off from work, I can relax, forget about work matters and enjoy my free time more. It is really important to feel like you can recharge, or you will burn yourself out.
How do you show your appreciation for women?
I like to think I show my appreciation for women by championing them. If someone has done well, I will celebrate them and feel genuinely pleased and happy they have been rewarded or recognised.